Facebook antitrust: A group of US states is investigating Facebook for possible antitrust violations and plans to file a lawsuit next week. More than 40 states are planning to sign on to the lawsuit. It's not known what the lawsuit will include in the complaint but one common allegation made against Facebook is that it has strategically tried to buy smaller potential rivals, such as Instagram and WhatsApp. (Btw, US millennial readers, the entire world uses WhatsApp except for the US.)
We take no view on the likelihood of real tangible penalties or actions, but seemingly long shot risks like these can materialize into an unmistakable risk in hindsight overnight.
Stimulus Still in Play: House Speaker Nancy Pelosi and Senate Democratic leader Chuck Schumer threw their support behind the $908bn bipartisan stimulus proposal on Wednesday. This $908bn number will be the starting point of a new round of discussions with a stimulus deal being in a six month standoff.
"In the spirit of compromise we believe the bipartisan framework introduced by senators yesterday should be used as the basis for immediate bipartisan, bicameral negotiations," Schumer and Pelosi said in a statement, referring to Senate Majority Leader Mitch McConnell and House Minority Leader Kevin McCarthy.
Also, there is progress on the Republican side toward a deal:
UPS not doing their S part: Per Bloomberg, "United Parcel Service Inc. is temporarily restricting some packages it takes from big retailers such as Nike Inc., Gap Inc. and L.L. Bean Inc. as online orders spur record deliveries ahead of the holidays."
This holiday season will be a record breaker with more online shopping than ever due to the pandemic, but can you guys chill so I can get gifts for my nephews shipped in time. Thanks.
Can't win 'em all: Per Bloomberg, "The raging global pandemic helped hedge fund manager Said Haidar make more than 25% during the market turmoil in March. Vaccines that could end the crisis have now erased those gains … His Haidar Jupiter macro hedge fund slumped 23.5% in November, its biggest monthly decline since starting more than two decades ago."
There's two parts to every trade and the exit is just as important as the entry.
Tweets and charts we like:
Adapting to sentiment indicators
High option volume still hitting records
Zerohedge is a permabear but this tweet is spot on from all research pieces I've seen so far
Some lessons from a value investor about what doesn't work
Like a junkie, Salesforce just can't get enough of those deals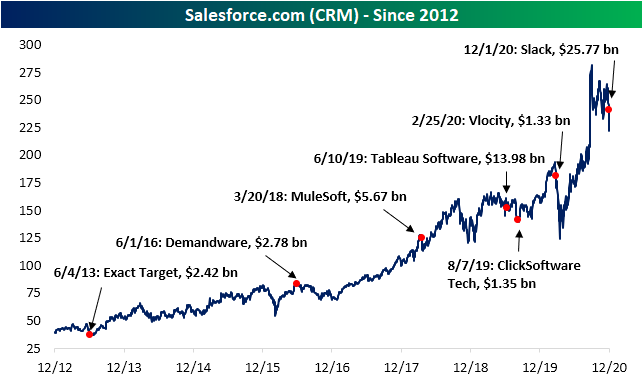 That's your millennialmkts update! Thanks for reading, if you like this content please consider following this blog and following us on twitter @millennial_mkts
Posts are not investment advice or endorsements.