Covid Travel Pass: The global airline lobby IATA is working on a mobile app that will help travelers demonstrate their coronavirus-free status. This is a part of the so-called Covid passport as vaccines near approval. Per the IATA, "The Travel Pass will display test results together with proof of inoculation, as well as listing national entry rules and details on the nearest labs"
With travel demand still hovering at 60% down y/y in the US, this technology driven move to monitor travelers and their so-called Covid-credentials is a good one. The IATA has also predicted that carriers will lose almost $39bn in 2021, that's on top of a $118.5bn deficit in in 2020. We hope to see more actions like this adopted in other areas of the economy, especially in travel and leisure to accelerate demand levels reaching 100% of 2019 levels.
The Gambit that paid: off Per Bloomberg, ""The Queen's Gambit," the buzzy, female-led drama set in the 1960s chess world, has become Netflix Inc.'s most popular limited scripted series ever."
62 million households watched the show in its first 28 days on Netflix. More proof that the future of entertainment is direct-to-consumer and the shift is accelerating. Disney has noticed and following its Mulan release on Disney+, is looking to release "Cruella", "Pinocchio", and "Peter Pan and Wendy" on their streaming platform. Will there be a future for movie theater companies such as AMC and CNK?
What's in store for 2021?: With the market in bull delirium, let's take a quick look at what opposing forces are on the market's mind: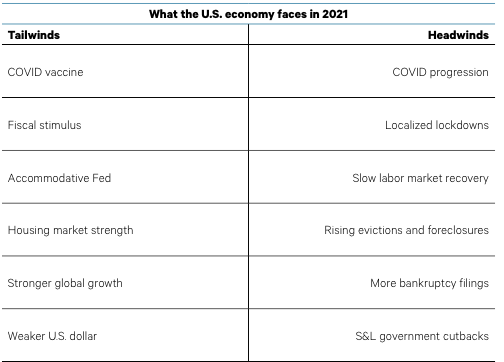 A covid vaccine has made the market look past this year and into the future. The promise of fiscal stimulus and an accomodative Fed, Janet Yellen has also been named Treasury Secretary signifying the Fed and Treasury will work in tandem, will drive more money circulation and lending, hence indirectly business activity. housing market strength is expected to continue with mortgage rates at historical lows and millennials finally moving out of their parent's house. Strong global growth is expected as a result of similar policies abroad and a Covid demand bounceback. The US Dollar is expected to weaken as a result of these policy decisions, further helping exporters who are already seeing demand increase globally.
Let's address the risks – Covid progression and localized lockdowns are certainly a risk, but with a vaccine there is light at the end of the tunnel. A slow labor market recovery has not materialized, but there are signs of deceleration in recovery. There has yet to be the sort of bankruptcy increase we were expecting to see, with commercial bankruptcies in the NYC district court being below pre-virus levels.
Tweets and charts we like:
Boomers were born into a Bull Market and yet still complain
Value outperforming Growth across every industry this month
Vaccine Availability from Credit Suisse
S&P profit margins bounce back in a yuge way
A rebuttal to our stocks are relatively cheap piece last week
That's your millennialmkts daily debrief. Thanks for reading, if you like this content please consider following this blog and following us on twitter @millennial_mkts
Posts are not investment advice or endorsements.