https://anchor.fm/millennialmkts/episodes/Daily-Market-Debrief–1118-15-Trillion-Consumer-Cushion-emlgpj
Consumer Saving: Central to the post-Covid bull thesis is extra consumer savings driving the increase in demand. Will this theme materialize in the bull cases that are quickly becoming the overwhelming consensus? The data says there is a cumulative excess of $15 trillion in personal savings when compared to the 12-month pre-covid personal saving average.
Household net worth has also recovered and the pandemic seems nothing more than a blip. What this means for you and your investing, where do you believe the majority of this savings glut will go once we are fully open? An economic bounceback is priced in at this point with markets at all-time highs. But there are still opportunities for unloved/underappreciated names as well as names that will over-deliver and the large cash pile Americans are sitting on will be the driver.
America's Zombie Companies: Nearly 20% of America's largest publicly-traded companies are considered zombies, meaning they aren't earning enough to cover their interest expenses. According to a Bloomberg analysis: "Almost 200 corporations have joined the ranks of so-called zombie firms since the onset of the pandemic. Even more stark, they've added almost $1 trillion of debt to their balance sheets in the span, bringing total obligations to $1.36 trillion. That's more than double the roughly $500 billion zombie companies owed at the peak of the financial crisis." The worry is that zombies are less productive and spend less on employment, R&D, and building up their asset base.
Two things here: First, this is primarily due to the Federal Reserve's efforts to stave off a wave of bankruptcies by keeping credit markets open through their facilities and corporate bond buying programs. (Buying bonds increases their price and decreases their yield, allowing companies to raise debt at cheaper market interest rates) Second, we suspect that this analysis was done hastily as most consumer leisure/travel companies are still operating on mandated lockdowns, reduced capacity, and other restrictions so of course their earnings are hit. In fact many of the names mentioned in the article are just that – DAL, CCL. However, others such as M, BA, and XOM aren't an apples to apples comparison. It's important to distinguish between the walking wounded and the walking dead. However, the sheer amount of debt being raised is indeed unprecedented.
For all you gamblers: UVXY – the world's largest volatility ETF, is seeing frenzied trading. Per Bloomberg, "Even as the ProShares Ultra VIX Short-Term Futures exchange-traded fund (UVXY) — which protects against swings in U.S. equities — slumps 34% in the election aftermath, it's on pace for the biggest monthly inflow since July. The unlikely state of affairs may be explained by surging options activity and a rising number of shares out on loan in the $1.2 billion product. That points to investors betting against it on expectations the Cboe Volatility Index will keep falling into year-end."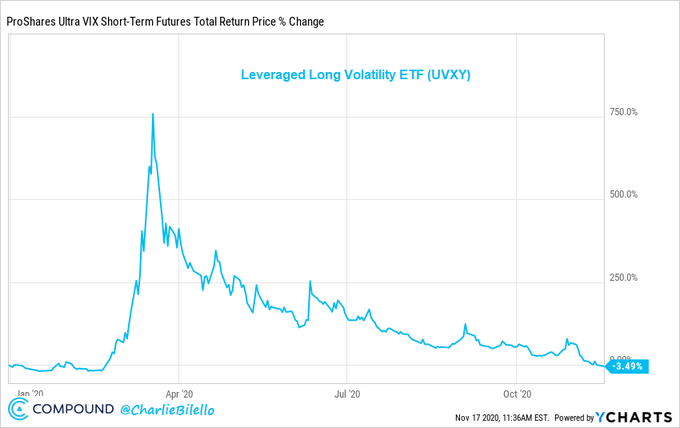 According to IHS Markit data, the number of UVXY shares sold short rose to 1.3 million on Friday. The market thinks volatility will subside and are overwhelmingly shorting it. If you think otherwise and are right, this could be a big payout. Note: This is entirely gambling.
US auditors for Chinese companies: According to sources, Chinese companies with shares traded in America would be required to use auditors overseen by US regulators or face being kicked off exchanges. The proposal is likely to be issued for public comment in December.
Chinese companies currently do not open their books to American auditors. Hence, you have developments like Luckin Coffee to just name one. There's credible allegations of fraud on a number of Chinese companies so this would be a step in the right direction.
Flagging Airline demand: Airline demand is seemingly flagging and the longer current conditions continue, the longer they are burning cash. However, they have massive cash piles, for example American has enough cash to last until 2024, United late-2022, and Delta until late-2023 according to our estimates.
However, these airlines and others have made up most of the their pandemic valuation losses. Using the Enterprise Value (value of whole company – the combination of equity and debt) from 12/31/2019 to the most recent data, the top 5 airlines have regained an average of 91.8% of their initial pre-pandemic value. Now, the stocks are much lower, but that is because of a combination of debt raised and equity dilution. We can confidently say bankruptcy is out of the question for large American airlines but do the current valuations make sense given demand backdrop? For what it's worth, Bill Gates also says 50% of business demand is gone for good.
Tweets and Charts we like:
AirBnb seemingly has a more resilient business model than traditional hotels:
Wal-Mart's long-term vision: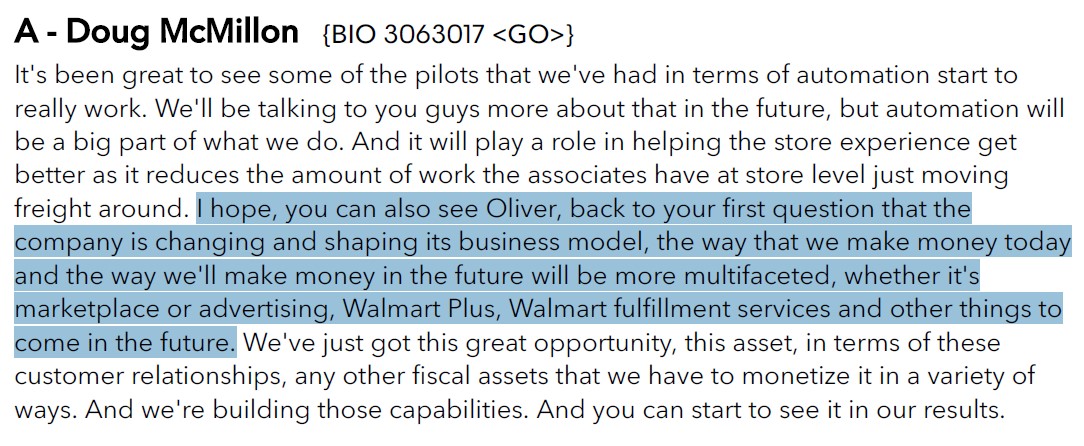 In response to our 60/40 portfolio commentary last week:
Perhaps if they were audited by American companies this wouldn't have happened?
DoorDash Economics: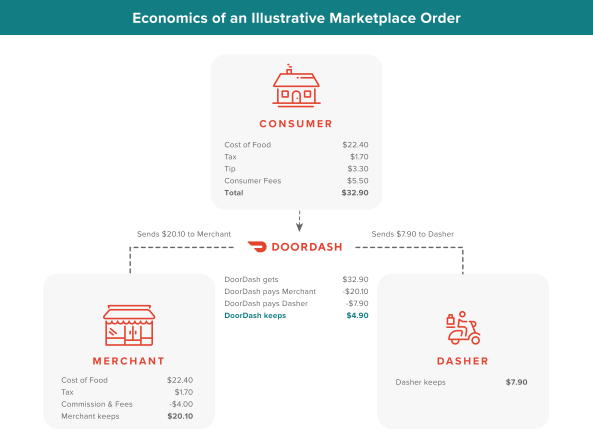 That's your millennialmkts daily debrief, thanks for reading and good luck!
Posts are not investment advice or endorsements.