https://anchor.fm/millennialmkts/episodes/Daily-Debrief-1117–Bulls-on-Parade-and-the-Post-Covid-Economy-emjf5u
Bulls on parade: Morgan Stanley and Goldman Sachs both came out with bull forecasts for stocks in 2021. From MS, "We extend our S&P 500 price target horizon to December 2021, and raise our base case estimate to 3,900 from 3,350 … Importantly, the average stock should do better than the index over the next year. Near term, we continue to see a range of 3150-3550 for the S&P 500 as the market deals with the second wave of virus, remaining election uncertainties and the specter of higher rates."
Not to be outdone, GS is "expecting global real GDP growth of 6%. [Goldman's] rates team forecast steepening yield curves and higher break-even inflation from Q2. [Goldman's] commodities team emphasise that all major commodity markets are in deficit, and they expect rising prices over the next 12 months." These themes contribute to their Base Case of 4,300 for the S&P, which is ever above Morgan Stanley's Bull Case.
Goldman continues: "The powerful, valuation-driven, initial rally in the equity markets between March and September this year is very typical of the initial 'Hope' phase of a bull market, which generally begins during a recession when earnings are still falling. This phase is typically followed by what we call the 'Growth' phase, when most of the profit and dividend growth actually comes through. Often, the transition between the two phases is marked by heightened volatility and a market setback as investors wait for, or begin to doubt, the recovery that has been priced."
MS and GS are both saying that we will now enter the "Growth" phase of the markets, with strong earnings growth due to a number of factors including:
Loose monetary policy from the Fed with extraordinarily low nominal interest rates and negative real interest rates for support
Indications of pent-up demand from consumers supporting a strong pro-risk cyclical bounceback
This bear market was 'event-driven' and not due to structural or cyclical issues, therefore the recovery will be as sharp as the decline
Cost-cutting by businesses during the pandemic will further juice margins and as an extension, earnings
When a consensus is quickly forming, be weary. This does not mean that we disagree, only that we are staying alert for risks to the Bull thesis.
New consumer behavior: The Coronavirus has shifted the behavior of American consumers and the changes are likely to become permanent. Per the WSJ "A recent survey by consulting firm McKinsey & Co. found that about three out of four people have tried a new shopping method due to the coronavirus and that more than half of all consumers intend to continue using curbside pickup and grocery-delivery services after the pandemic is over. Nearly 70% of consumers surveyed intend to continue buying online for store pickup. The pandemic collapsed into three months a process of adopting e-commerce that otherwise would have taken 10 years in the U.S., Harriet Torry reports."
Asia powers ahead: It has been repeated over and over but still it seems Europeans and American don't understand it, in order for a full economic recovery, containing the virus is a prerequisite. What region has contained the virus best? Asia. What region has the best performing economies in 2020? Asia.
Trump plans Lame Duck China attack: President Trump will attempt to pursue aggressive measures against China to cement his legacy as a China Hawk president per Axios. (link) They continue to say "He'll try to make it politically untenable for the Biden administration to change course as China acts aggressively from India to Hong Kong to Taiwan, and the pandemic triggers a second global wave of shutdowns."
Trump plans to sanction or restrict Chinese companies similar to the actions he pursued against Huawei in his first term. Expect BABA, TCEHY, JD, and others to trade choppily off headlines depending on the details of the Trump administration's actions. Here is a list of public Chinese companies. (link)
Tesla to Join S&P 500: S&P Dow Jones Indices announced Monday after hours that Tesla will join the S&P 500 on Monday, Dec. 21.Upon entry, Tesla will already one of the S&P 500′s 10 most valuable companies based on Monday's closing price. Tesla was denied entry in September after it met criteria to be included in the S&P 500 but was not initially picked by the S&P 500 Index Committee. TSLA is up 14% pre-market. Elon may soon become the richest man alive.
Tweets and charts we like:
The Oracle, Warren Buffet's Berkshire Positions as of 9/30/20 – Selling Banks (although increasing BoA position) and buying Pharma
S&P 500 is NOT diversification
New York City exposure bounceback: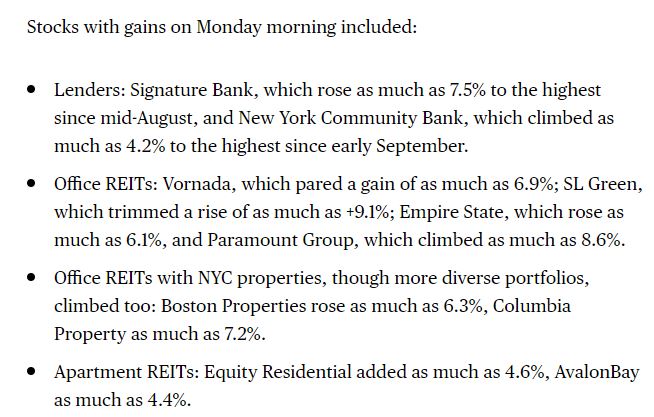 Majority of student loan debt belongs to high earners (top two income quintiles) who come from non-wealthy background with over 50% of the debt belonging to those in the bottom 5th wealth quintile.
Fed sedates the market and the results speak for themselves
That's your millennialmkts daily debrief, thanks for reading and good luck!
Posts are not investment advice or endorsements.