News Wrap:
We got the anticipated vaccine headline, now what? The exciting reality of distribution logistics and supply chains of course! Pfizer's vaccine needs to be housed at an average of 103 degrees below zero Fahrenheit. The number of medical grade ultra-cold deep freezers in the United States is unknown, and it's up to states to locate them. Specifically, the federal government has worked with 5 pilot jurisdictions (California, Florida, Minnesota, North Dakota, and Philadelphia) to utilize a basic plan for administration, which will then serve as a model for other jurisdictions. Other states and local governments will then use information gathered from these pilot jurisdictions to create their own plans, which will identify vaccination sites, and other necessary logistical considerations. Almost every state has submitted a draft outline for their distribution in their respective jurisdiction at this point.
There is no centralized effort for this kind of distribution effort, yet. Federal officials, which includes the CDC, are not working with hospital associations or medical supply chain experts on a national plan. It's instead up to each of 64 vaccination jurisdictions to identify these freezers, according to an American Hospital Association spokesman.
There are fewer than 10 national suppliers of medical grade deep freezers, experts say and a recent market report identified nine major suppliers. More on How to Ship a Vaccine at –80°C from NYT – (link)
Luckily there's also some good news – some hospitals have these specialized freezers even if they don't realize it. Although their sizes vary widely "from the size of a table top or the top of a desk to the size of a TV tray." Additionally, some concern about the freezers' availability was relieved recently after Pfizer announced it designed a special short-term cooler for keeping its COVID-19 vaccine in dry ice at a cool -109.3 degrees Fahrenheit/ -80 degrees Celsius. Can we source enough dry ice for 1.3bn doses of the vaccine in 2021? Expect to hear more about these bottlenecks as we move forward. More here – (link)
Who gets the vaccine first? Front-line healthcare workers, essential workers, and older adults could and probably will get vaccine first. Phase 1 will consist of a total around 45 million from these populations. Phase 2 will most likely be those who are at risk due to health conditions such as obesity and diabetes, as well as the remaining older population, teachers, and other essential workers. Phase 3 and Phase 4 will be children, young adults, and workers in important industries.
Will Americans take the vaccine? Polling is … inconclusive at best. Pew Polls ate 50/50 and polls from Engine Insights and CBS News are 25% would take/ 25% would not take/ 50% not sure and would wait. However, with the national mood being that of pollsters be damned, we have a better data point: 45% of Americans were vaccinated for the flu last year. Due to increased interest in Covid, I think we can conservatively expect 60% of Americans to take the vaccine, with a more optimistic assumption of up to 80%.
There seems to be some confusion on whether Pfizer accepted federal funds. From what I can see, Pfizer was not a part of Operation Warp Speed, but did accept federal money. Pfizer's partner in develolping the Covid vaccine, BioNTech, also was given $445 million from the Germany government. See more details below: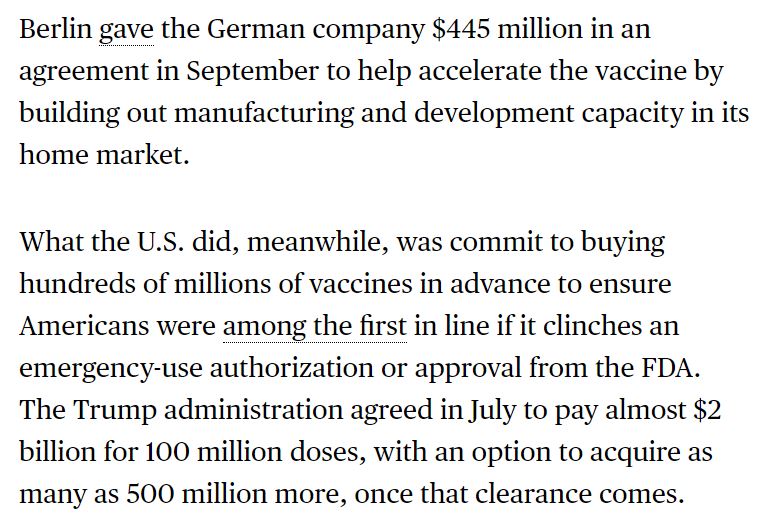 Enough about the vaccine, how about some Market Mayhem – Beyond Meat fell as much as 11.1% on the news, released around 10:30 AM, that McDonald's unveiled its own meatless burger, the aptly named McPlant. However, a few hours later, at around 1:30PM, Reuters ran a piece where it was reported that Beyond Meat co-created the McPlant, leading to BYND spiking over 20% on the news. BYND ultimately ended the day -4.05% because it was unclear what role the company would play on the McPlant (if any) and their role was probably thin at best. The stock then promptly dove another 20% after its third quarter revenue missed the lowest estimate. My grocery store has always been fully stocked with Beyond Meat, just saying.
And finally, the most important news of the most eventful day for the markets in a long time:
Tweets and Charts I like: